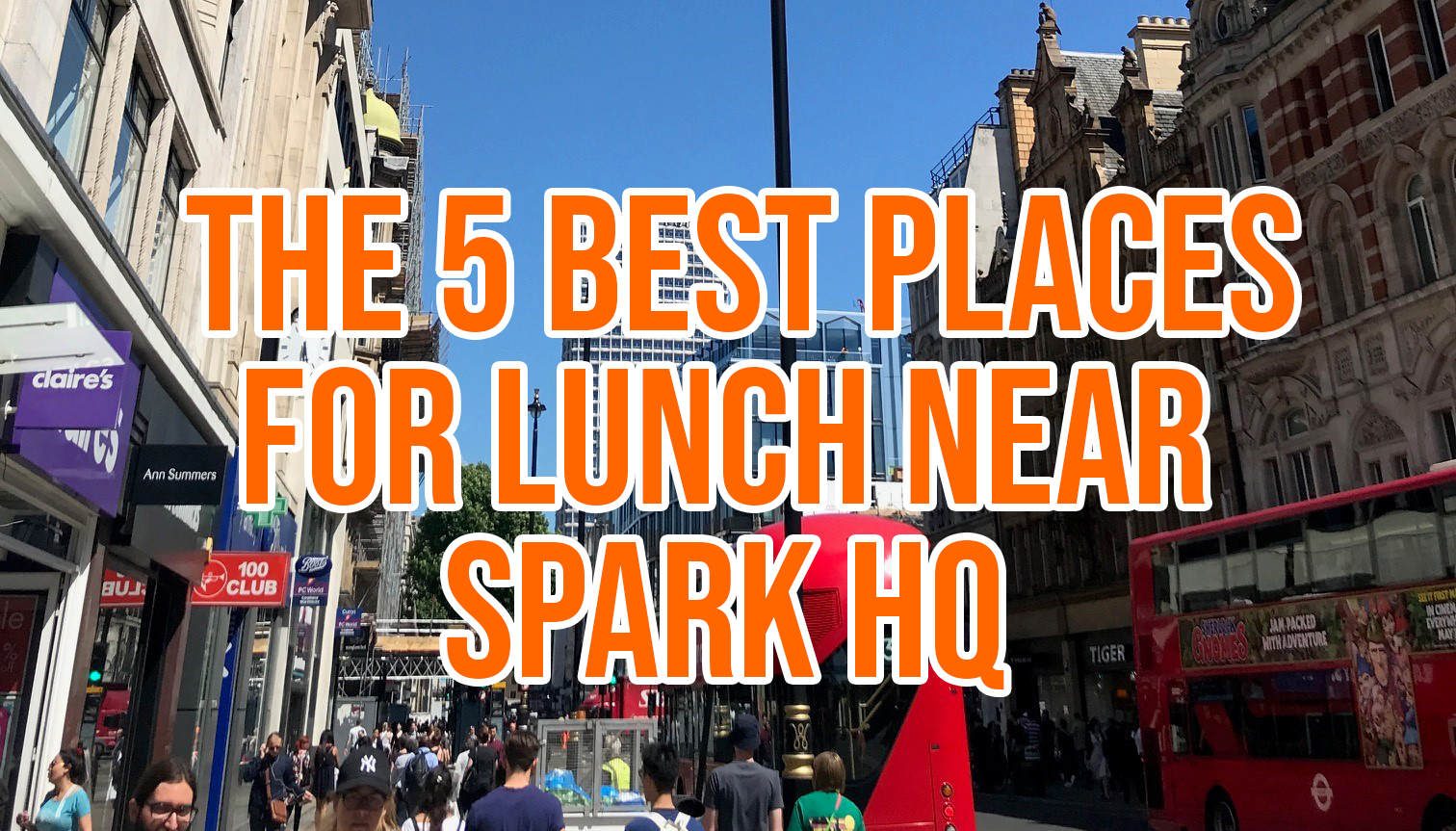 Spark blog - The five best places for lunch near the Spark HQ
With offices across the UK reopening again, I'm excited to venture back into our wonderful HQ in central London. And after months of being away from one of the best areas for food in London, top tier coverage across national and trade media isn't the only thing I've been hungry for. After two years of lockdown cooking and Deliveroo, it's time to stretch our legs and hit the streets of Soho to see the best of what it has to offer.
But where to go? There are many options, so if you ever find yourself in central London without lunch plans, here's the Spark team's thoughts on the five top places to grab some grub.
Chick'n Soho's menu of tasty fried choices was a Spark office favourite before lockdown, and with any cluck, we can expect their signature boxes lining desks soon. Offering up a delectable selection of fried chicken fixings, this Soho spot brings the bonus of being slightly healthier than the usual high street chicken shop. Chick'n is our choice for a reasonably-priced, comfort meal.
As Nick says, "On days of busy of sell-ins and client calls, it's great to be able to pop round the corner to grab something scrumptious. A trip to Chick'n is enough to convince me to come into the office on any day of the week."
Bun House stands out as one of Spark's favourite lunchtime eateries in Chinatown. This wonderfully small Cantonese café serves up fluffy bao buns in a range of savoury options, catering for meat-eaters and vegans alike.
"Being situated on Oxford Street certainly has its perks," says Rob. "One of which is being a short walk away from the best spots for Chinese cuisine in London. When I'm in the mood for something quick and filling, I know exactly where I'm going."
After landing a piece of top-tier coverage, it's nice to sit back, relax and watch the vibrant streets of Soho go by. An unusually authentic joint, this awesome family-run Italian sandwich bar offers a range of café classics. From an iconic fry-up to a plate of pasta that could feed a horse, Bar Bruno is hands-down our top pick for a laid-back lunchtime experience. "Bar Bruno is my favourite place to visit on Wardour Street", says Millie. "People-watching paired with a sarnie is the perfect way to spend a lunchtime after a busy morning of PR. If you're in the mood for something hearty, affordable and wholesome – Bar Bruno is the place."
To keep the creative juices flowing, it's important to mix a little spice into the average Spark lunchtime. And ideally situated a five minute walk away is Papaya – a well-hidden, hole in the wall eatery serving up a scrumptious range of spicy meat and vegetable curries and stir-fries. Winning the cost per flavour ratio award, Papaya's the perfect selection for an easy yet delicious takeaway.
"Now that the sun's out and we're all back in the same place, it's great to grab lunch and go sit in the park together," says Marnie. "I'm looking forward to hitting up Papaya for a bargain curry and tucking in with some friendly faces."
The supermarket meal deal
And when all else fails, look no further than the nation's favourite lunch – the supermarket meal deal. From time to time, the classic sandwich, snack, and drink is precisely what is needed to power us through a sell-in or creative brainstorm. As we are situated mere steps from a Boots, Sainsbury's and Tesco, truth be told, this might be the most visited lunch option for the Spark employee.
Dom says, "Sometimes you need something quick and classic. Let's be honest, in terms of value for money and proximity to Spark – you can't go wrong with a Boots meal deal."
See you out there
All this talk of lunch has got my stomach rumbling, so that's all we have time for now. We hope this London lunchtime list caters to all, from the functional eaters to the foodies. Maybe if you joined the Spark team, you could accompany us on our quest for the perfect central London lunch spot!
Give us a shout to hear more at [email protected].