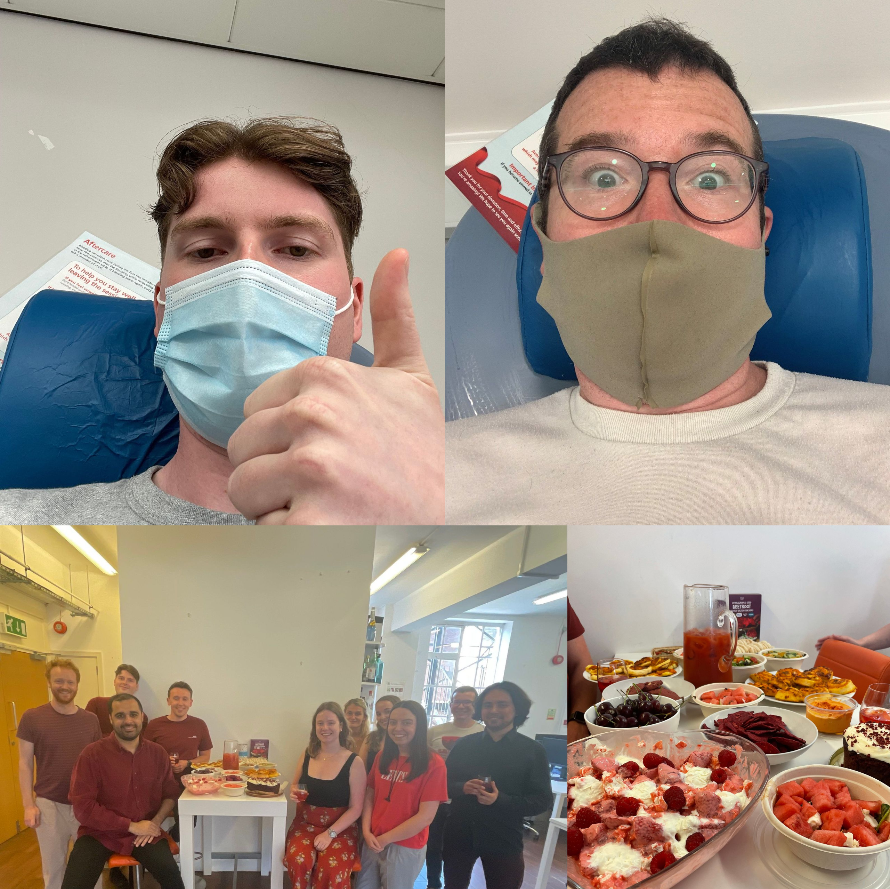 World Blood Donor Day: A-Positive experience for the Spark team
By Millie
You might remember Andy's blog post about our plans for the World Health Organization's World Blood Donation Day – well, we put our money where our mouths (or arms!) are when the big day finally rolled around last week. Despite having a lot on our plate(let)s this month, snagging some top media coverage, we thought the day would be a great opportunity to donate blood and raise awareness in the process.
Four brave members of the team headed down to the NHS blood donor centre near our office in Oxford Circus, in the pursuit of free squash and biscuits – oh, and to pledge their commitment to the cause, of course. Meanwhile, the team back at the office set about preparing red snacks and cocktails for everyone to enjoy upon our valiant donors' return. (Sidenote: donors should not drink alcohol after giving blood!)
Many of the team were eager to donate, but discovered they were unfortunately ineligible (you can read more about who can and cannot give blood on the NHS website). However, this didn't dampen their determination to raise awareness, with everyone sporting an item of red clothing to mark the day. The team prepared some red favourites, from Eton mess to pizza rolls and everything in between. And the blood donation process wasn't too arduous: resident cocktail expert Dom had the strength to whip up a refreshing jug of Bloody Mary upon his return from the donation centre.
Overall, our four donors had positive experiences of giving blood, and were surprised by how comfortable and straightforward the process was. Gus had donated blood in the past, and said the experience was – as always – "relatively pain free". Jon has already signed up to donate blood again in September, giving his red blood cells some much-needed time to regenerate – and says we can "B-positive" he'll be a repeat donor in the future.
It's fair to say Dom was the most hesitant of all the donors, but he returned to the office in one piece, and lived to tell the tale: "As it was my first time, I was expecting the process to involve a lot of discomfort, light-headedness, fainting, and generally embarrassing myself in front of the lovely blood centre staff. But honestly, the trickiest part was just trying to remember my medical and travel histories when I was asked by the nurses."
There's never been a more important time to donate: the NHS needs nearly 400 new donors every day to meet demand, especially 'universal donors' – people with O-negative blood types. Recent research has even discovered that donating blood reduces 'forever chemicals' in the body, benefitting your own health while providing a vital lifeline for those in need.
Our donors will receive their blood-types via text over the next few weeks. Meanwhile, the whole experience has started some great conversations in the office about what it's like to donate. And of course, blood shortages are an issue all year around, not just on World Blood Donor Day – so we'll be teaming up to donate again throughout the year (with some new converts in tow this time!).