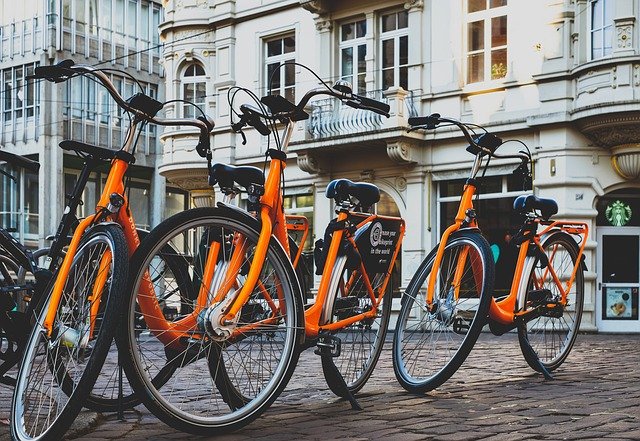 Four reasons why we're loving the Cycle to Work scheme
By Andy
Over the last year, the number of people riding bikes has skyrocketed by 200%. Personally I've been making more journeys on two wheels after getting bored of pounding the same old streets on my runs during the pandemic. Riding a bike makes it possible to get much further and see different things, which is important to us city dwellers who don't have a car!
As well as (slightly) broadening my horizons this year, cycling has also helped clear my head at the beginning or end of a busy day. At Spark we take mental and physical health very seriously – with our flexi hours making it possible to get outside before it gets dark in the winter, and our corporate Calm subscription helping with meditation and sleep. We've also recently joined the Cycle to Work scheme, so employees can save money and spread the cost on buying a new bike and accessories, or subscribe to a city bike hire scheme.
We've only just launched the scheme internally, using CycleScheme, but Alex C has already purchased a bike, and I've taken up a Santander Cycles membership. We've been getting to grips with our new wheels over the last few months, with an eye to riding some/all of our journeys into work once restrictions are lifted and we can re-open our office.
Looking ahead, we will be in line to enjoy the following four key benefits when we're riding to work:
1) Getting your miles in. Many of us have step counters and exercise goals these days – in fact we recently ran a step counter challenge, with a £300 charity donation up for grabs to the winner! What better way to meet your targets than by propelling yourself to work? You might not even have to hit the gym or pool when you get home…
2) Separate work and home. Getting the endorphins going is also very beneficial to your mental health. It's also great to mentally 'let go' of the day on your way home, with the journey forming a clear barrier between the two, without the need to slump onto a crowded train carriage (remember those?). Conversely, in the mornings there's no better way to wake yourself up than by getting the wind racing through your hair.
3) See the sights. Having grown up in the countryside, days out in London were exciting events for me as a child. The sense of awe has never really gone away – working at number 100 Oxford Street feels very special. My journey to the office takes in some great sights, from Trafalgar Square to Big Ben – something you won't see from the tube!
4) Saving money. On a daily basis, cutting out a tube or bus journey can save you a few pounds that could be spent on lunch, or even a cheeky drink after work. The equipment can of course also be used outside of work too, with those who purchase bikes/equipment getting to keep the item once they have completed their monthly payments.
Join the club
Long live the cycling revolution! I hope more of my Spark colleagues take advantage of the scheme, giving us an even more happy, healthy workforce long into the future. Now, if you'll excuse me, I'm going to stick on a Spotify cycling playlist and get those pedals turning.