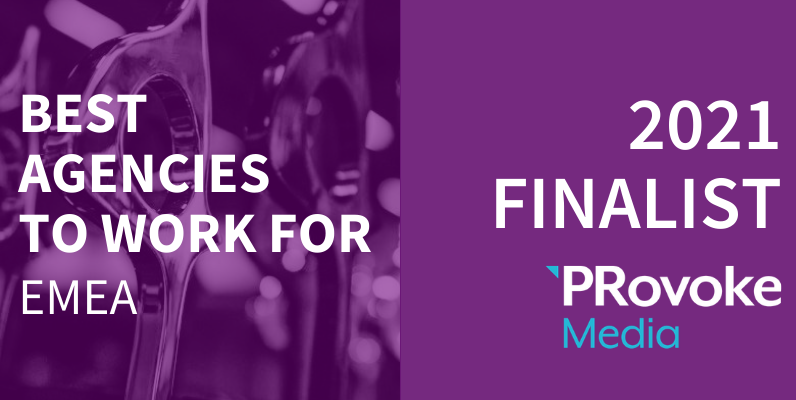 Why Spark is one of the top three best PR agencies to work for in EMEA
By Michelle
Recently, we were delighted to be named as one of the top three best agencies to work for in EMEA by PRovoke Media. This particular category is judged via a panel of experts, but it is also based on the results from an anonymous survey of the Spark team, making this recognition even more meaningful. For obvious reasons, after the upheaval of the last 18 months, work could have been an additional stressor on the Spark team. But we've made sure that Spark is a top three place to work by maintaining our dedication to the wellbeing of the team, and to creating an inclusive, diverse and equitable workplace. The following are just some of the areas we place a special focus on.
Prioritising people
The Spark culture prioritises people. Work-life balance is key. So, our approach means that we fit with whatever works for employees and for the type of work they are doing. Flexible working was already a Spark mainstay pre-pandemic. 100 percent of our staff work flexibly, and the team choose their own working hours within certain parameters. We also have some full-time remote workers.
Caring for mental health is also embedded in Spark's culture. Long before COVID-19 came on the scene, we put in place several processes and standards around mental health and wellbeing. This includes everything from dedicated mental health training for line managers and appointing mental health "first aiders", to a corporate subscription to the Calm app – to name just a few of the steps we've taken.
Focus on development
Our investment in training and development is another reason why we're a great place to work. We have a specially designed induction programme and a dedicated training schedule for each employee level. A mix of internally developed, highly personalised training, coupled with external workshops and courses are available to all. We bring in business mentors, life coaches, actors and confidence coaches to help the team flourish.
And flourish they do. We are committed to developing our people and promoting from within, and we have a great track record at Spark of our retaining our wonderful team. In fact, the entire management team today is made up of people that started many moons ago at Spark as graduates, AEs or AMs.
Dedicated to diversity
Diversity is fundamental to Spark. We create a welcoming culture where everyone feels that they belong, and we support staff who might have specific requirements, such as those who are neurodivergent. Recruiters that we work with are clearly briefed to explore all educational backgrounds and personal profiles, and not to restrict their searches to only certain universities or schools. Our hiring is driven simply by whether a person has the ability to do the job and adds to the chemistry of our team, which is welcoming, fun and ambitious. Our commitment to inclusion, diversity and equity is clear when you look at the Spark team and is evidenced by the fact the two owners of the agency are from minority communities.
The approach has always been to put our people first and to adapt to our employees. We know that when the team is happy then Spark will continue to thrive. So, being recognised as a top three place to work is a welcome appreciation of the efforts we've made. Now, some of you reading this might be thinking, "I wish I could work at a place like that." Well, guess what, you can! We're hiring at all levels, so get in touch on [email protected] to find out more.